The best part of my job is helping couples decide where to hold their destination wedding.  Since every destination is different and each resort offers different venues and packages, it can be an overwhelming decision.    Just saying "Beach Wedding" gives you thousands of options to choose from!   Never fear- help is available!    Knowing the answer to the following questions will give you a good start in being able to narrow down the options.  Keep in mind that deciding what you want involves knowing what you don't want for your destination wedding.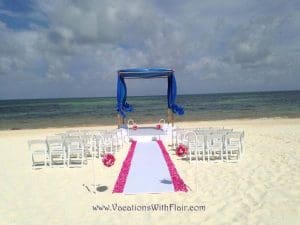 What kind of ceremony location do you want? Beach?  Garden?   Gazebo?  Do you need a chapel or chuppah for a religious ceremony?   Do you envision a private ceremony or are you fine with a venue next to the end of the main resort pool?   This is probably the biggest question I ask my couples.   Most resorts have fantastic website pictures of their ceremony locations, but sometimes they may have cropped out the onlookers at the pool thirty feet away.   If this is a concern for you, it's better to find out beforehand.   There are resorts with private, out of the way sites to hold your ceremony and reception.   These options are not the cheapest, but it's worth knowing your options.   Even at the cheapest venue, you'll feel like you've overpaid if you didn't get what you wanted.
Anything Special going on?   Is your wedding involving an ethnic or religious ceremony (Indian, South Asian and Jewish included) where special meals and arrangements need to be made?   This fact alone may narrow your options in a big way if you answered yes to this question.   You definitely want everything to run smoothly, so avoid all resorts that cannot handle your needs.
What do you want to wear?   Sand is best for barefoot or flat shoes.  The resort can accommodate you with a runner if you really want something solid to wear heels, but it's going to be wood slat and easy to catch a really high heel on.
Other great questions to think through include budget, transfer time from the airport, food & restaurant preferences,  and group amenities.    You may want to consider hiring an expert who would work for you-  as opposed to the hotels.   It's a huge benefit to have someone who can compare all the hotels to make sure you get exactly what you want.   Your experience and memories are too important to risk.