You said 'Yes!' Now it's time to plan a wedding. Small and intimate or huge and extravagant? What kind of cake? Oh- and where will you have it? That's the big question. Where do you want to start your new life with your love?  Our advice – take a look at Mexico!
We think Mexico is a hidden treasure for Destination Weddings.
Mexico has amazing beaches, beautiful weather, and crystal clear waters. Most importantly, there are great values for you and your guests.  This place has so many reasons to be your wedding destination.
Imagine a wedding celebration in Mexico on one of Cozumel's white sand beaches. Then imagine guests celebrating your nuptials with you underwater. Palancar Reef is a perfect place to scuba dive. Grab all of your guests, your wet suits and fins, and dive into the reef for those wedding pictures. Sea turtles and coral make an amazing backdrop for the bride and groom.
Acapulco is the place for wedding adventure-seekers. Instead of jumping the broom, why not take your wedding plunge from the La Quebrada cliffs? A popular site for locals, this spot has shallow water and sheer cliffs (a perfect metaphoric picture of marriage), great for jumping into your new life together. After that thrilling start, finish out your night with a trip to the many bars and dance venues in Acapulco. This bay city really comes alive at night.
Interested in ruins? Then celebrate your nuptials in the Tulum ruins of Riviera Maya. Get married where thousands of years of history abound. The stones of the temple and the ruins of the buildings against the blue of the Yucatan Peninsula are the perfect backdrop for those one-of-a-kind wedding pictures.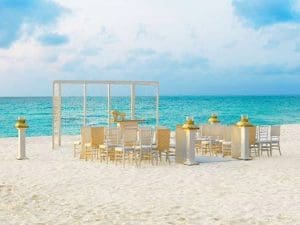 What better place to begin your married life than somewhere filled with love? Playa del Amor (Lover's Beach) in Cabo San Lucas is the perfect spot to say those loving words to each other. Ride a glass bottom boat from Cabo to Playa del Amor and see through the clear waters to the colorful fish below.  Or, see Land's End, where rock formations tower in the water and sea lions rest. The arches and little open spaces in the rocks are windows to the Pacific Ocean. They are also the perfect frame for wedding photos.
Besides being beautiful, Mexico deals await. Take time before and after your ceremony to shop at the local shops for fantastic bargains. Haggle over the price of silver jewelry, which Mexico is known for, and get a great price on a unique bridesmaid gift.
Enjoy real Mexican food and drinks like Horchata, a cold cinnamon drink that is so refreshing in the hot sun. Cold beer and tequila are also popular, and most vendors offer you a bottle of beer when you enter their store.
Make Mexico your dream wedding destination.
Call us today +1-800-517-1123 for a personal consultation!