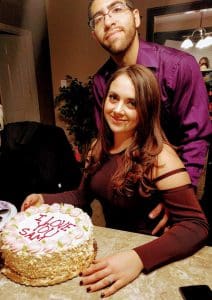 JOEL & SAMANTHA
DESTINATION WEDDING
Secrets Maroma Resort & Spa
Riviera Maya, Mexico
  November 10, 2018  

Passports are required on this trip
KINDLY RESERVE YOUR ROOM BY May 1, 2018
Joining the wedding fun is easy!
STEP 1:  Decide on your room category and travel dates by May 1, 2018 (rooms are limited)
STEP 2:  Click the button below to make your reservation.   A small deposit of just $300 will reserve your room. 
STEP 3:  Relax!  We will make sure you get VIP individual attention 
All Rooms Include…  Meals, Drinks, Top Shelf Liquor, 24/7 Room Service, Minibar & Entertainment
Preferred Club Includes Additional Amenities…  Private Preferred Club Lounge, Preferred status and amenities, Concierge services, Daily continental breakfast service in Preferred Lounge, Afternoon hot and cold hors d'oeuvres, Exquisite desserts and fine liquors in Preferred Lounge, Pillow Menu, Complimentary computer access in Preferred Lounge, Upgraded mini-bar service, Upgraded bath amenities, Complimentary access to the Spa Hydrotherapy circuit.
Non-Stop Group Airport Transfers
Prearranged transfers are necessary at the Cancun airport.   To make sure your trip is successful, we have arranged a Non-stop, Roundtrip Group Transfer for all of Joel & Samantha's wedding guests.   This service will meet you at the airport, take you to the resort, and bring you back for your flight home. We will automatically add this to your trip unless you ask us not to.
Price:  $70 roundtrip per person
FAQ's
Room prices are listed PER PERSON, based on double occupancy (2 people in room).
Need a single room?   Just ask!  (Prices are higher)
MINIMUM STAY: 3 Nights
Stay as many nights as you want!
These rates are a group rate and available exclusively through Vacations With Flair
** Air fare not included in rates**  We are happy to help with flights.
Travel Insurance
Group rate travel insurance is available to you at a low cost.  Cost determined by total trip cost. Most trips will cost $99 per person. It is highly Recommended. Our "Cancel for any reason" Trip insurance protects your investment. Travel Protection Plan payment required at time of booking. Once paid, Travel Protection Plan is non-refundable.  Click here to view insurance details
Wonder if Travel Insurance is worth it?   Click here to read….
Cancellation Policy
We have negotiated a low group rate for travel insurance for this group.  Hotel cancellation fees (depending on cancellation date) may apply.  Travel insurance protects your investment.   
Contact Us..
We are THRILLED to be helping with Joel & Samantha's wedding travel.  
Do you have questions about travel?  Don't hesitate to contact us…

Email us: Info@vacationswithflair.com
Call:  1-800-517-1123