Whether you were just engaged or he popped the question years ago and you're finally getting around to planning the big day, sending out wedding announcements to friends and family is a very exciting time! For many, this may be the first formal notice of your engagement and upcoming ceremony. But while you're tearing through Pinterest dreaming of elegant typeset and gorgeous floral prints, you may find yourself getting a little overwhelmed.
Why do couples send out save-the-dates? What is the difference between this and a formal invite? What is the best way to go about this process? These are all common questions for first-time brides and grooms. Save-the-dates are traditionally meant to simply inform your future invitees of your wedding date so they can more easily plan to attend. Although it is technically proper etiquette to send out a save the date 6 or more months ahead of time, and then an invitation 8 weeks before the wedding; the happy truth is that it's ultimately up to you.   The truth is, if you are planning a destination wedding, waiting until the "proper" time – 8 weeks prior – to send anything out is WAY TOO LATE!   Your guests should be booked and paid in full by that time.   So, a Save the Date helps give your guests time to plan.
Maybe you and your special someone are short-term planners, and the wedding is only a couple of months away. Or perhaps you're on a budget, you've invited 300 people to the ceremony and feel faint at the thought of yourself sending out two rounds of cards to all those people. In situations like these, some couples opt to skip the save-the-dates and go right to the invitation. Otherwise, a save-the-date is the perfect way to quickly give your guests plenty of notice for your upcoming nuptials while you get started on the hors devoirs menu, hand-picking the right shade of green, and deciding whether you want begonias or roses in your bouquet (go for the begonias!).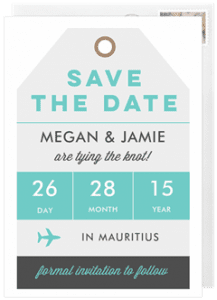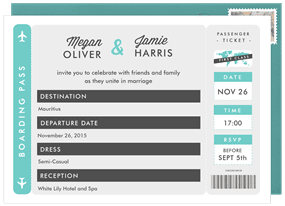 There are a few instances which especially require save-the-dates, as this helpful article in the Knot explains. If your big day is during a high-travel time of the year, such as a holiday weekend or popular summer vacation times, it is an expected courtesy. Luckily, there are more than a handful of options in this day and age by way of both electronic and paper invites.
Some people even decide to create a Facebook event, which is a great way to keep track of who you've invited and receive confirmation instantly, and can be equally as beautiful with a creative eye. There are also several sites that offer the option to send your invite electronically, which is a great way to be environmentally-conscious and enjoy extra sending convenience. Many of these even offer bonus features, such as the ability to collect addresses of guests as they R.S.V.P., and free design templates.
Paperless Post is one of the best sites to find these often overlooked conveniences. Offering both paper and online invites, the company works with leading designers including Kate Spade and Oscar de la Renta to create stunning invites both online and on paper. Offering around 3,000 free invitation designs and premium templates rivaling the best in the business, Evite is another great option for the technologically inclined. Celebrations is a third, equally wonderful site that not only offers beautiful invites, but tons of inspiring, must-try event ideas that will give any celebration that extra wow-factor. Greenvelope and Punchbowl are two more that made our short list for gorgeous and easy online and print invites.
Whether you need a follow up invitation is completely up to you!   We support your style!   These days, you have tons of options.
SaveSave
SaveSave
SaveSave