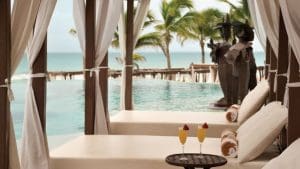 The question that we hear most often is: "When is the best time to book your honeymoon?"
Air is published about 10 months before departures.  Once it's published, it has different fare codes.  The cheapest codes sell out first, which is why the longer you wait these days before purchasing a ticket, the less options you have.  Airlines don't add more planes or seats to a route (Chicago to Cancun for instance) when it starts to fill up and sell out.  Popular routes these days can fill up a month before your departure.
But what if I purchase my honeymoon package so that the air is good, and the hotel ends up going on sale later on?  If you booked this on your own, you are probably out of luck.  Vacations With Flair helps clients deal with this question all the time.  No problem!  If a hotel drops in price after we book it, we'll do the work of getting a price match.  No extra work involved for you!  Our clients get the benefit of "last minute" deals without having to wait last minute. We offer payment plans, so deciding earlier is better. No time clock ticking in the background. We are expert at planning romantic travel and want nothing more than to help happy couples plan their honeymoon. That is why our honeymooners are the happiest of all!